Retrofit files:
When we rescued Farver, it was a night in November 2079. At that time, it rained continuously for more than half a year, and the forest outside the city became sparse due to bad weather. In the bushes near the city, Farver's eyes flickered from the dazzling neon lights. Yes, we found him. Farver's whole body was torn and bloody, if it weren't for the slight ups and downs of his stomach, we really thought he was dead. It is hard to imagine how he escaped from the prey. After bringing him back to the transform base, we started the two-day transform operation. Fortunately, he eventually survived. He is currently trying to recover, although he often wakes up in nightmares. He knew that he should seize this opportunity of rebirth, because in Night City, no one would care about you, and the only thing you have to do is to stay strong.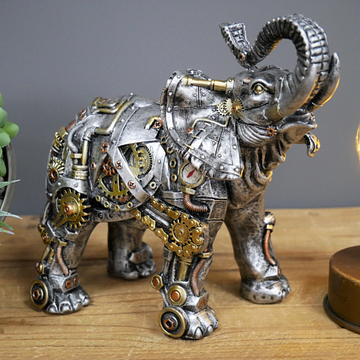 Farver has all the style of a mechanical engine.
Scrap clockwork and various industrial nakedness constitute the transformation part.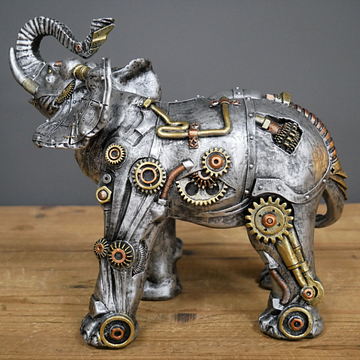 ——————————————————————————————
our suggestion:
These little guys are suitable to be placed in any corner you like. Whether it is a garden, a patio or a living room, it can show a unique feeling.
Features:

❤️Absolutely
gorgeous
and
unique
.
❤️No matter what occasion they are placed on, they will surely
attract people's attention
.😍
❤️It is very important to us that
you are happy with your purchase.
❤️
An interesting design
.It adds a playful and cheerful spirit to your garden. This
Steampunk animals
statue stays the same for years to come. This hand-painted statue is accentuated with a multicolored finish. It has a fade-resistant finish that maintains its fresh look for a long time.
❤️
U.V resistant
and does not get damaged easily from the harsh rays of the sun. This Garden pet Statue needs some care during the winter season and it can be kept inside.
Package Includes:

Farver-Steampunk Elephant*1

size:
12*18*12.6cm
Made by: resin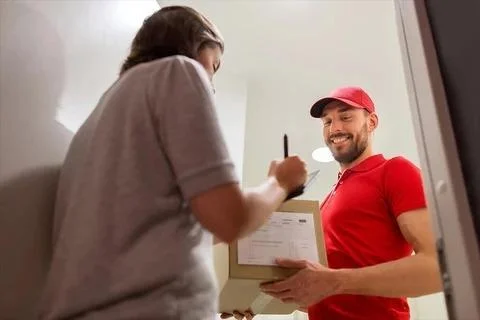 ⏰ Processing time>>1-5 Business Days
🚢Shipping Time>> According to your country, it usually takes 7-15 business days
⁠💲⁠Full refund before the order has been shipped.
🔙30 Days Return Warranty
💵 Tax-free
👍Free shipping over $50
📧24/7/365 Customer Service.Respond to every email in 24 hours or less.Respond to every FB Message in 2 hours or less.